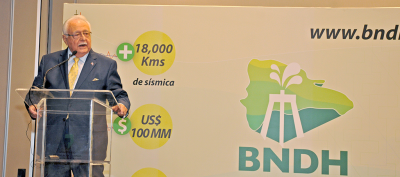 Dominican Republic's Ministry of Energy and Mines presents public database to develop hydrocarbon industry
With work by world renown Schlumberger, the Ministry of Energy and Mines has assembled an information package valued at more than US$100 million which could facilitate the birth of a Dominican industry of exploration and production of fossil fuels.
SANTO DOMINGO, Dominican Republic.-  The Ministry of Energy and Mines (MEM) has made public the first national hydrocarbon database, an unprecedented fact that would facilitate the birth of an industry of exploration and production of fossil fuels.
Minister Antonio Isa Conde proclaimed-while presenting the information platform- that the initiative does not aim to create false expectations assuring that there is oil or gas in dominican soil, but rather aims to facilitate investors with facts and data that will let them reach their own conclusions.
During the event, which counted with the enthusiastic participation of relevant business leaders, embassies, public sector, civil society, and others, it was informed that the Ministry counted with the counsel and guidance of Schlumberger, winner of a tender process sponsored by the  MEM.
The digitalized studies –that if done today would cost round US$100 millions- will serve as a basis to attract investments to the hydrocarbon sector, as they contain the necessary information to evaluate the oil and gas potentials in different sedimentary basins of the country.
«The package of information that we present today will carry even greater value considering that Dominican Republic is still a virgin territory in terms of concessions, hence-in reality- we are starting from zero», the Minister said.
The Vice-Minister of Hydrocarbons Mr. Alberto Reyes explained technical aspects of the database, and its gratuitous and public accessibility through the portal www.bndh.gov.do.
«We count with 1,491 maps and planes, 805 seismic profiles, 212 registers of oil fields and more than 18,300 kilometers of seismic lines in 2d and other geophysical, seismic and geological information gathered in different studies since 1904» he underlined.
In 2015 prices, each kilometer of seismic line on earth will require an approximate investment of US$14,000 and US$2,000 in the sea.
To date there's also information in the country of 84 oil wells and perforation structures that will help confirm the availability of hydrocarbon deposits on the subsoil for future extraction. The database gathers and makes available for any interested party more than 180 documents and 150 registers of said oil wells.
This database, along with MEM's administrative resolution 001-2016 pertaining to the realization of geological and geophysical studies for hydrocarbons as well as the first set of Rules for the Exploration and Production of Hydrocarbons, approved by the executive branch through the presidential decree 83-16 just last February, will serve the Ministry as it plans to call for international public tenders for oil blocs intended for those interested in exploration of hydrocarbons on dominican land and sea.
These activities should comply with all norms and legal requirements relating to environmental and natural resources protection.